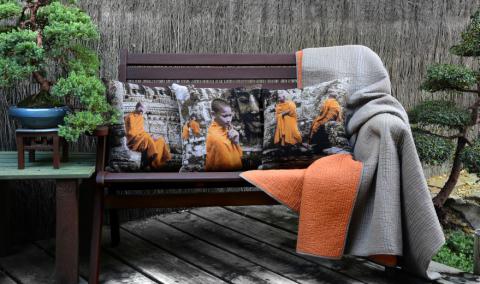 Adorabella are leading suppliers in our field and unlike most other suppliers and distributors throughout the world (for wall hangings & cushions), we do not simply act as middlemen or distributors.
Adorabella is one of the few companies in the world that manufacture our wall hangings and cushions from fabrics imported directly from our weavers in Europe and the USA. This means we make the cushions and we fit the backing fabric to our wall hangings in our own workshops to ensure the highest possible standards as demanded by our customers – i.e. our tapestries and wall hangings hang as square and as flat as possible.   We have perfected our processes over 38 years in this business to get our tapestries to hang best possible (a process that is not as simple as it sounds) and at this time we also fit a continuous weight bar into the bottom of the tapestry that helps minimize distortion of the tapestry when hung. International customers please note:  If you elect to have your tapestry shipped by Australia Post, due to dimesion restrictions, if your tapesty is over 110cm (43") your weight bar will be in two parts.
We manufacture the items we sell and therefore actually stock all items as appearing on our website. We ship to you directly from our own workshops and do not use 3rd party logistics companies nor do we have our weavers "Drop-Ship" to you. This gives us better control over our stocks, enables us to provide a more reliable service to our customers and ensures the quality of our goods.
Therefore, as we have control over the quality of the goods we manufacture we have no concerns about the strength of our Guarantee. In the rare event you have received faulty goods or goods supplied incorrectly we will pay for the freight costs for your return and the freight costs to get your replacement to you (subject to our Returns Policy).
See also:
Returns Policy - Trade Customers